Now you can book only Manakamana cable car ticket or one day Manakamanana darshan package including two way transportation by private vehicle with pick up and drop off facility from nearby reliable location from your home or hotel.We are offering daily Manakamana Darshan package with private mini bus or Hiace from Pokhara & Kathmandu.
Manakamana cable car basement (starting location) is located at Kurintar and Pokhara from Kathmandu with distance 106 Km from Kathmandu, 102 Km from Pokhara & 62 Km from Sauraha Chitwan. Manakamana Cable Car, an Austrian engineered cable car that rises elevation 1000m covering 2.8km from the Prithvi Highway to the Manakamana ridge at the ancient Manakamana Mandir, one of the most important hindus pilgrims in Nepal. Hindus believe that the goddess Bhagwati, an incarnation of Parvati, has the power to grant wishes, and newlyweds flock here to pray for male children.
Manakamana Darshan 1 Day Package:
Rs 1250 Includes: Two way cable car ticket, both way transportation by Non a/c on Hiace.
Rs 1450 Includes: Two way cable car ticket,both way by A/C Hiace.
We offer daily Manakamana Darshan Package from Kathmandu & Pokhara with two way transportation by private vehicle (Bus/Hiace) and Manakamana cable car ticket. We pick up you nearby location from your home at earlier morning (06:30am-07:15am) and drop you in Manakamana Cable car basement.We provide you manakmana two way cable car tickets on Bus/Hiace.After finishing your holy worship we gather all pilgrims and drop to you in your nearby location.
You can also hire/book private car/Van/jeep for one day or one night manakamana darshan with us.Rate list for one day only vehicle hire is as given bellow.
If planning for one night stay than we also provide reservation service for Hotel or resort around Manakamana temple or kuringhat.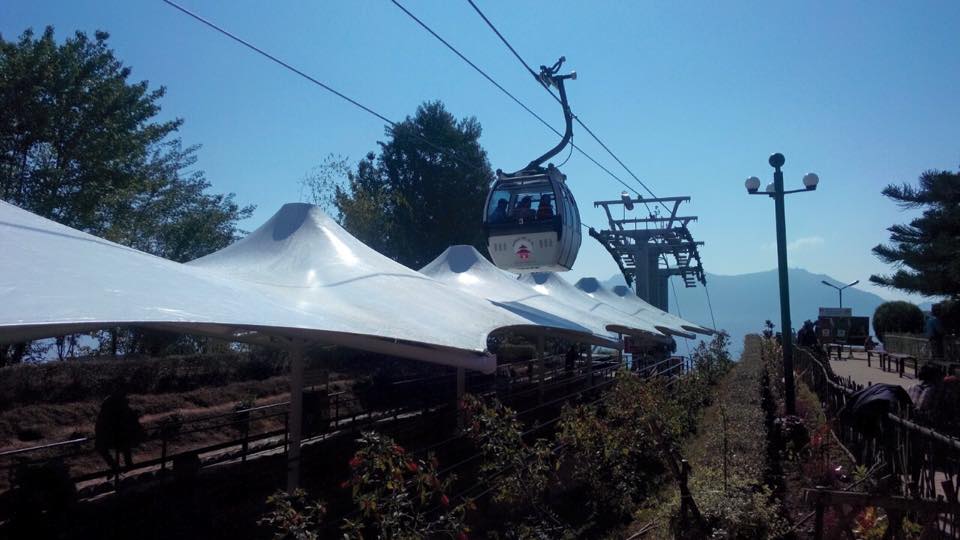 Cable car near the upper station
General Itinerary: 1 Night/2Days
1st Day: Earlier morning 07:00 am departure from Tourist Bus stand at Jamal Kantipath.09:30 am arrival at Manakamana base Kurintar or Earlier morning 07:00 am departure from Tourist Bus Stand at Pokhara.After Manakamana Darshan over night stay at Dalima Resort or Riverside Spring Resort.
2nd Day: After breakfast 09:00 am departure For Kathmandu or Pokhara.
Includes:Two way transportation by tourist bus, manakamana cable car ticket, accomodation on resort with dinner and breakfast.
Manakamana cable car ticket price is as mention below.

Category                   RATE     

Normal                     Rs 640         

Child (Nepali/Indian)      Rs 385      
(3-4 feet)
Student                    Rs 480         

Elderly                    RS 450         

Disable                    Rs 320         



Above fare can be changed any time.